The Jesse Minute is a featured artist over at Reverb Nation, go check it out… on the front page
We added a couple of LIVE songs to our myspace page, "deceiver" and "bullet".   Both were sent in by fans and were recorded "bootleg style", which is ok with us, totally.   If you're a sound snob take a pill…..
If you have an audio or video recording of TJM that you want us to share just send it our way.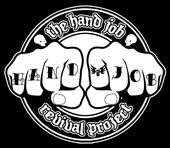 Amy from The Hand Job Revival Project has "milo" and "bullet" in rotation at Hand Job Radio. It's the only place to hear the studio version of "bullet" from our upcoming EP! so go check-check-check her out…   thanks Amy!
And here's another photo of our new BASS PLAYER… missa calls him Rabbit, Stephan calls him kid, Jim is worried he will get a better nickname than him, and Brian calls him by his given nickname.. "Meat"… hmmm ;-)
One of these days I'll get a photo of him playing bass, ha!