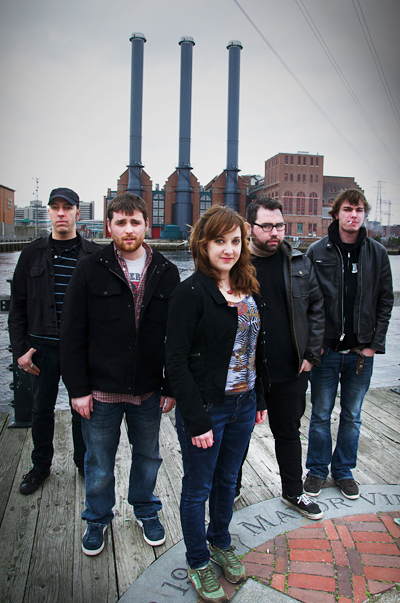 The Jesse Minute … from Providence, RI
Providence locals The Jesse Minute are a female fronted 5 piece pop punk killing machine with nothing to lose. Sick and pretty lyrics over a minefield of musical destruction.
. . . . P R E S S . . . .
"a meaty platter of breakneck chords and rhythms coupled with the operatic pipes of lead singer Missa Hills (known to all only as Missa). Shut Up and Play is faster, louder, and harder than their '09 debut Do or Die, laced with dynamic bursts and bolstered by a new rhythm section."
July 6, 2010 – Chris Conti – read the entire article in the Providence Phoenix
Best Music Poll 2010, Providence Phoenix
Winners: Best Punk/Garage Act
Motif Music Awards, 2010
Nominated for:
Punk Act Of The Year + Break-Thru Band Of The Year + Female Vocalist Of The Year
T.J.M. WINS BEST GARAGE/PUNK ACT 2009
Best Music Poll, Providence Phoenix
"Handfuls of promising demos culminated in their long-awaited debut release Do or Die (75OrLess Records) earlier this summer, an infectiously hot record with lead singer Missa exuding a sexy snarl and big pipes on gems such as "Tinnitus" and "Against Them." TJM have shared the stage with big-timers like New York Dolls and Supersuckers among the 50 shows they played in 2008, and toured across the Midwest this year in support of Do or Die."
~Providence Phoenix, June 2009

CD REVIEW: The Jesse Minute "Do or Die"
"…Do or Die is an amphetamine-fueled disco destroyer party. Tunes like "Ben" and "Cattle Drive" come out of the gate like storm troopers with guitarists Brian and Jim leading the charge. "Teen Model" kicks off with an almost '50s classic pop song till the band accelerates into their normal pole position on the pop-punk autobahn. The Jesse Minute are like high grade tequila, because although they hit hard and tend to veer songs off into unexpected terrain, singer Missa's sugary vocals always leave you hangover free…"
~Marc Clarkin, Motif Magazine, March 4-17, 2010
.
m o r e p r e s s
"One Woman Wrecking Crew: Missa (The Jesse Minute)
This one-woman wrecking crew from the pop-punk juggernaut that is The Jesse Minute kills it on stage with sass and brass. Missa's vocals remind me a lot of Kay Hanley from Letters to Cleo singing over a Bouncing Souls backbone that the band grinds out. The Jesse Minute had kind of an up (release of their debut full length Do or Die on 75orLess Records and a two-week tour) and down (going on hiatus for a few months while they searched for a new rhythm section) 2009. The Jesse Minute are back in action kicking it into overdrive with plenty of chances upcoming to catch them live. This is a band that has really come a long way the past few years and have really honed down their mix of sugary pop meets punk rock mayhem."
by: Motif Magazine, Feb 4-17, 2010
"The Jesse Minute has created a sound with strong female vocals, powerful guitars and a rhythm section that drives the songs like a freight train. The bands explosive live show has already captured the attention of local venues and promoter's, securing regular New England appearances. They have already shared the stage with national and regional touring acts such as New York Dolls, Supersuckers, The Charms, Chesterfield Kings, Varsity Drag, The Murder Mile, Envy On The Coast, Southcott, Code 4-15 and The Twilight Collective … Expect this band to be rocking a city near you, expect to have a good time and expect to have their songs in your head for days to come."
by: The Providence Journal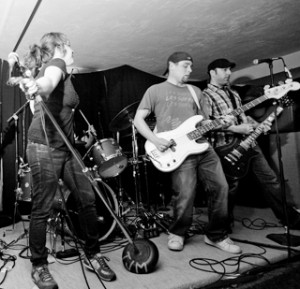 (photo by Curt Allan www.curtallan.com)

…word from former Green Room/Shed local music guru Dave Lysik, who writes: "Well, it looks like Jerky's is gonna be doing live music. We just got our entertainment license after a very long and expensive ordeal. We almost didn't make it. But here we are at the end of it all. So Jerky's, 71 Richmond Street, Providence, is joining the fray thanks to the efforts of co-owner Lysik and longtime owner Jeff Ward, who ran the legendary Club Babyhead. This Friday, January 26, THE JESSE MINUTE and THE FASHION FAILURES play Jerky's, which is a great way to get started. The Jesse Minute, the 2006 winners of Little Steven's Underground Garage Battle of the Bands, has a new EP on the immediate horizon…"
by: BOB GULLA, Providence Phoenix
"The Jesse Minute are a newcomer to rock 'n' roll gang wars… already making waves with their fast alt-rock sound. They opened for the New York Dolls a few months ago at Lupo's Heartbreak Hotel courtesy of a victory in an online contest poll. Having caught a recent show of theirs, I could tell that show must have really gone a long way in terms of building a fan base. For the purposes of an audio description, think of them like a Letters to Cleo reunion with different members and different songs. Only in their infancy, The Jesse Minute's brand of pop-punk could still roll over the competition like the Blitzkrieg, should they land a slot in something like the upcoming WBRU Rock Hunt."
by: MARC CLARKIN, Motif Magazine
"The band has only been together since May, but their fine-tuned member search mechanism, in place for more than a year, has seemingly paid off, proving that if you look hard enough to find the right people, band chemistry is not long to follow. Introducing the Jesse Minute, a five-piece punk-inflected act that takes its cue from girl-fronted alt-rock archetypes like Letters to Cleo and Veruca Salt. The band is new to the scene, but the players are not, and their experience shows…The work they've issued so far is on the solid side, with Missa's quirky voice at the top of the mix and some interesting post-punk guitar work. You can hear it for yourself on MySpace, or at the Living Room next week." –
by: BOB GULLA, Providence Phoenix