Hey all you non-Rhode Island-ers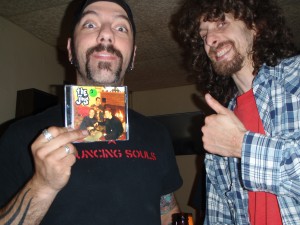 We're going out to Cortand NY on Saturday for an awesome house-show and The Loiterers (which will be their last show!).
.
<– "Brendar of the Hill People" hosting the party (Jimmy looks excited about The Jims album)
.
So if you're in the area, head down to 40 Main St, you will see a bunch of wacky lookin dudes and grrls on the sidewalk in front of the place, just follow them to the show :)
.
Then we hit Rebel Sound Records for a matinee up in Pittsfield MA.  We're excited to play this space, and we get to play with Roberta Sparrow from Illinois.
.
Also, we were nominated for Best Punk/Garage Act in the Providence Phoenix!  Click here to VOTE if you agree

.
And in Motif Magazine, we received a whopping 3 nominations (thanks to whomever nominates bands for these awards).  If you agree that we are A. Punk Act of the year or B. that Missa is best female vocalist in Providence or C. that we are the Break-Thru Band of the Year, please go ahead and start voting here.
.
So, there you have it.