That's right, we're back!
No other way to put it other than "The Return of Punk Night in Sneakytown"
.
If you have no idea what that means then you'll have to just go to the show to find out.  It's gonna be a wild one!  The Jesse Minute, Gunshot Wound, Mustache Ride and… Hank Sinatra Jr. closing the night with ridiculousness.
.

This is how Jim feels about it… Yeah, it's that good.
.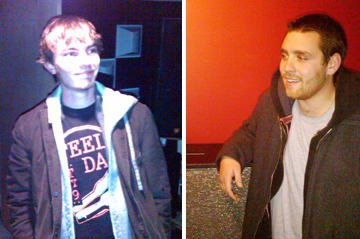 Vic and Mike are also excited about it… okay, I coulda had a better photo-op.  These are two photos from my crappy phone but at least it's something.  I bet you're wondering how and when (a week ago) we snagged this drum and bass combo and wondering how we're gonna sound on December 5th…  Yeah, it's that good.
.
The search is over.  Look out!
~missa