Thanks to everyone who was at Firehouse 13 on June 3rd!   We were sad to announce it will be our last Providence show until we find a permanent drummer, but with your help we should be back soon… AFTER THE SUMMER TOUR!
.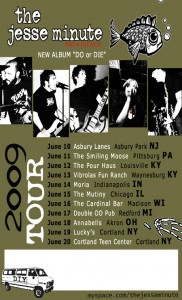 Not only do we have a new CD ready for tour,
we've got new buttons, stickers and shirts!
.
Get the new album "DO or DIE"
at 75 or less starting on June 12th!
the shirts can be purchased when we get back…
.
From June 11 to June 20 we will be in
NJ, PA, KY, IN, IL, WI, MI, OH, NY
SEE YOU SOON!
.