Ok, so we're back from our little tour and it was a fucking blast. We played 7 shows in 8 days and here's what went down:
This tour was booked 100% DIY and financed completely by the band. When it was all said and done, there was no record label, booking agency or promoter help. We learned a lot, including the fact that most clubs won't give you the time of day if you're from out of town, even if they say they support touring bands. Blah Blah Blah that didn't stop us from making it happen. We started booking this a few months in advance and that still wasn't enough time because of some last minute cancellations that had us scrambling to get show coverage last minute.
We had a lot of stuff to deal with before we left, including selling music gear (waaah) and blood to account for the ridiculous gas prices,

the first fill-up, yuck
and fixing up the band van (este-van) for the trip. We also had some last minute gear problems right up until a half hour before we left. Despite all the bullshit, we got in the van and headed down the road.
Sunday, June 1 – We went to hang with Dave Locane and the gang at Championships in Trenton, NJ. We love that room and they have the coldest PBR anywhere…sweet! We played with The Rape Babies from PA, who rocked and were cool to hang out with…our friend Amanda even came out to hang. We will definitely be playing more shows with The Rape Babies in the future!!!
We drove to VA right after the club closed. On the way down we found ourselves in Washington, DC at sunrise. There we witnessed some of the most insane drivers ever. It was like a fucking video game!!! These people are nuts. I mean everyone says drivers in the northeast are crazy, but when you witness a bunch of half-asleep people constantly criss-crossing like 5 or 6 lanes at 70 mph+ it's a whole different league!!!
Monday, June 2 – VA beach is a fun place to be. The first thing we noticed was that people who don't know you actually talk to you and say hello. Not being used to that, it freaked us out. We got over that quick and spent the afternoon flyering for the show at the beach. Grilled Cheese even found a chic-fil-a! We went for a swim in the ocean and body surfed until it was time to head to the club. I don't think VA Beach has seen five bodies so pale and still moving around. We all got matching sunburns for our trouble.
The Half Shell is a small bar with an elevated stage in the corner. The PA was really messed up but Jimmy was able to keep it under control for the entire show. The bartender is quite a character and she made the night a lot of fun. We played a fun show with A Suffocating Signal, The Half Jeffersons and Audiostrobelight. They were all pretty cool people! We will definitely be playing a show in the future with Audiostrobelight, they were awesome! While we were loading in we got the news that tomorrow nights show was not happening…then Matt from A.S.S. came through with a replacement show the very next night at The Raven in Burlington, NC!!! Go Matt! We closed the club and drove into the night.
We drove to somewhere in I dunno, NC and found a cheap room for the night after eating an awesome breakfast at the very rad Huddle House…we were in biscuts + gravy country, and it was no secret that we were from out of town the moment we stepped in the place…."where the hell are y'all from?" was kinda how it went.
Tuesday, June 3 – After waking up somewhere in NC, we drove out to The Raven in Burlington, NC. This club is awesome!!! Great sound, great staff, great stage, two levels, upstairs VIP Lounge!!! We hung out in the parking lot and drank beer in the van until it was time to load in. We even made a new friend…hi Stephanie! and Jimmys brother and friends came out to catch the show as well.
This was our second show with A Suffocating Signal and The Half Jeffersons, who we were pretty sure were horrified by us at this point. I think we were a little rough around the edges for them. There was a sweet local band on this show called Sinking The Shoreline who we got to hang with after the show down near UNCG. These were young kids who could play like hell!! Very cool…they get what it's about. We hope to play with them again sometime soon, hopefully before they are on the cover of Tiger Beat.. We ended up going with them to Jimmy Johns for late night subs…why the hell did Jimmy Johns close in Providence? Jimmy McNally is right…best subs ever! and now they're Tommy Salami approved. We had a ball kicking contest then called it a night. Missa won hands down.
We got to stay with Jimmys brother Jeff and his wife Chris outside Greensboro in Kernersville, NC. They treated us like fucking kings. They have a cool little doggy, a nice house complete with a/c and a sweet beer drinking porch…..plus they know how to cook, so we ate real food for a change….awesome!!!
Wednesday, June 4– We had a day off and hung out in Kernersville. Jimmys brother has a screen printing shop in town and we got to pick up our new t-shirts!!! (coming to the website soon for purchase) He did a great job with the shirts and we got to hang out at this cool little music shop for the afternoon. Grilled Cheese actually traded his backup bass for a new one, which caused him to have a stiffy. more on that later.
Thursday, June 5 – We got up early and headed out on our way to KY. There was a lot of mountain driving for this one…very scenic stuff and very hot at the same time. The este-vans' a/c needed re-charging often because of a leak, but otherwise it ran like a champ. We got to The Southland Bowling Lanes in Lexington, KY in time to do the usual…hang out in the van and drink beer. The other bands showed up and we finally got reunited with the Vibrolas. They are awesome people that we met in providence over 2 years ago, and we love love love them.
We played a show with the Vibrolas, The Murders and Spooky Q's. This place was in a lounge of a bowling alley…very cool indeed. The show rocked and everyone was soooo cool to us. Grilled Cheese was excited to use his newly acquired bass for a few songs, but he lost his boner quickly and went back to his old standby. We had a blast playing because we were around people who wanted us to be there, which you could feel in the room.
The Vibrolas laid it down big time…they are even more fierce than we remember, maybe it was because we hadn't seen them with the new drummer Andy before, but…it was just awesome! We'd go back to Lexington anytime! I dunno, I think we were still getting used to complete strangers being nice and wanting to have a conversation, unlike here in Providence where most people just look at you funny as they walk by. After the show we got to drive to the Vibrolas Fun Ranch out in the country for a late night bonfire and cookout…..sweet. Chris Vibrola and Brian spent the whole night talking about music gear and old cars. Brian was in heaven, since he normally talks to himself about this shit while we pretend to listen. This place rules…they've got old muscle cars, guitars, tons of rock and pop culture memorabilia, cows, dogs, cats and a place to swim. We did not want to leave…..ever.

Friday, June 6 – We woke up at the fun ranch and Leila Vibrola made everyone breakfast…then we hung out by the pool and acted like idiots for the rest of the day. We even got a tractor ride! Chris Vibrola had to work that day, but once he got home we went out for a good ole southern dinner, then headed out to Louisville.

Louisville is a beautiful city and The Third Street Dive is a great place to play. The owners and staff are great people! We were just excited to play another show with the Vibrolas but the venue and the people really made it the best show yet.

The Vibrolas are such a great band and they were totally on their game tonight…it was amazing!!! It was Jimmys' turn to be the birthday boy and the crowd couldn't stop screming his name out loud. The bar owner even did this raging fire breathing trick during the show!!! Plus the bar is open til 4am……C'mon this place rules!!!

he loved this place, don't let the finger fool you
We left the club and had breakfast with The Vibrolas in Louisville.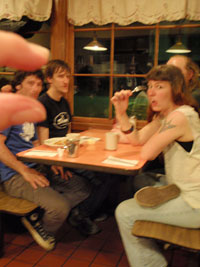 It was time to say goodbye and it was really sad. We are going to be seeing them sometime next year, but we didn't get to spend nearly enough time with them on this trip!!! We drove into the night and headed for PA.
Saturday, June 7– This was the longest drive of the tour, over 7 hours, so we had little time to spend dicking around with stops and such. We finally got to Ford City, PA, outside Pittsburgh around noon. This was an outdoor show to benefit Rock for Life, which helps raise funds for families with sick children. We were welcomed with open arms by Matt, Steve and Utah. There was a keg for bands, cheap food and the sound was awesome, but it was one hell of a hot day!
There were a bunch of different bands on the bill including acoustic, straight up rock and most of all…metal. We played a hot sticky set and stayed as long as we could. Tommy Salami was like an ant under a magnifying glass because the sun found a way to find him during the set…..everything was cool when we sound checked, but he was being burned beyond recognition the whole time we were up there playing. Missa was a real trooper as well for dealing with the heat because we found her kind of dazed and babbling in the van right after the set. Kinda funny that she didn't even know her name while she was up there, but she knew the songs. We left at about 5:30 after making many new friends who were willing to buy merch to support the band. It was time to drive to NYC and we were running on little to no sleep. We had plans to stay with friends in NYC, but we just couldn't drive any further and stayed the night somewhere in PA.
Sunday, June 8 – We woke up and hit the road for our last stop of the tour, NYC. Everyone was kind of bummed out knowing that this was the last show. There was one oblivious truck driver who wanted the tour to end immediately, so he decided to try and run us off the road. We didn't die and Grilled Cheese gave the driver a "fruit salad under glass" for his trouble….too bad our windows are tinted. We finally ended up getting to NYC around 5pm, parked the este-van in the king spot outside Otto's Shrunken Head, said hello to our friend Mr. F. Wood. Then we set out to find the Joe Strummer mural.
We found the Strummer mural and went next door and had some of the best pizza ever at The Pizza Shop, which is owned by former Turbo AC Kevin Cole, Johnny T and Jesse Malin……who was there hanging out. We got to meet Jesse then we went back to the club.
Sundays at Otto's Shrunken head are always fun because Frank Wood is such a character and there is always an eclectic mix of people playing music and hanging out…after all…"it's NYC, what the fuck did you expect?". We got to meet Roman from The Fux and the guys in The Hell Caminos, who were on tour from Hawaii.
The Hell Caminos put on a great show and a couple of them got to hang out during our set as well. It was a bit of an ass kissing contest for a while between all the bands, then it was time to call it a night and get back home.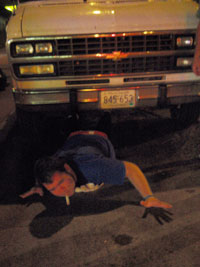 but only after we ran over Grilled Cheese with the este-van
We got back to RI on Monday and found that it had suddenly become summer and gas had gone up even more…..to make things even better, we were treated to a perfect voyeurs view of our new neighbors making sweet love to one another….don't let anybody tell you any different, those two guys are in love.
Anyway, the este-van did its' job and took us the 2,500+ miles necessary to make the tour happen. We absolutely can't wait to do it again! Thanks to all the people + bands we met for being cool and supporting a band that just wants to play.